How to Choose the Best Used Car Dealership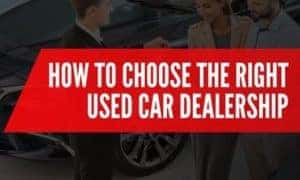 In order to make sure the Pre-Owned Vehicle you buy will be one you can rely on for years to come, you have to start by selecting the right Used Car dealership. But with the numerous choices out there, how do you figure out which professionals are the most reputable and have the highest-quality inventory? Follow the Three Things to look for below to make sure you pick the perfect Car Dealer for you.
3 Good Signs of a Great Used Car Dealership
1. Big Inventory
Buying a used car can be a time consuming process, especially if you're not sure what you're looking for. To make sure you don't need to spend time going from dealer to dealer, check out the inventory at Dealerships like Ole Ben Franklin Motors Alcoa . Most companies display their selection online, and it's easy to go through the website and see if they have a large enough range of makes and models to suit your preferences before you spend time walking around the lot. Ole Ben Franklin Motors Alcoa has a huge Pre-Owned Inventory right here: https://www.olebenalcoa.com/used-vehicles/
2. Strong Reputation
Make sure any Car Dealer you choose has a strong reputation in the community for honesty and integrity. Read online reviews of professionals you're considering, and ask family and friends who have shopped there about their experiences keeping in mind everyone has different opinions. Did previous customers feel as though they were pressured into buying a vehicle that wasn't right for them? Was the end price within their budget? Do they have good reviews from customers? The answers to these questions will let you know what kind of experience you'll have.
3. Friendly, Knowledgeable Staff
The attitude of the salespeople at the dealership says a lot about what it's like to work with the business. When you go in, you should be warmly greeted and helped promptly. The team member you work with should be personable and willing to take the time to listen to your needs before they start showing you vehicles. It is always best to meet Well experienced automotive retail salespeople that are not only personable, but well versed with true knowledge of the vehicles they are showing you.
For the best used car dealership in Alcoa Tennessee, Call or come to Ole Ben Franklin Motors Alcoa for your next great experience. In addition to the wide inventory available, Ole Ben Alcoa also have almost four decades of experience and always provide some of the most affordable prices on pre-owned vehicles in East TN. To speak with a friendly team member, call (865) 980-8216 today, OR visit us at 911 Louisville Road Alcoa TN 37701 or browse Ole Ben Alcoa's selection online at https://www.olebenalcoa.com/used-vehicles/